Boost your career with a Microsoft certification to become a Functional Consultant
Microsoft exams help you differentiate yourself and validate your knowledge and skills.
If you desire to become a functional consultant or an efficient end-user, your journey starts here! First, you need to pass the optional fundamentals and mandatory core exams.
Browse our self-paced online training videos with unlimited playback during the length of your subscription, to learn new skills that may better prepare you for your career and lay the foundation for success on our certification exams.
You can choose to pass one or more exam(s) listed below after passing the related core exam to become a functional consultant associate.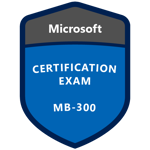 20300
This course is designed to teach you the core knowledge necessary to excel working with common features and capabilities regardless of your role working with Dynamics 365 Finance and Operations apps. This course prepares you for the MB-300 exam which is the prerequisite for any of the associate certifications. After passing the exam MB-300 the candidates typically specialize in one or more feature sets of Finance and Operations apps including finance, manufacturing, commerce, Project operations, and supply chain management.