We recommending start here
Ideal for individuals just starting in technology or thinking about a career change to be a Dynamics 365 efficient end user, functional consultant, an associate, or ultimately an expert.
Our new videos our coming soon.
In a meantime please consider the free courses designed and authored by Guide To Learn for Microsoft MS Learn. You can visit the courses from the following learning path:
Microsoft Dynamics 365 Fundamentals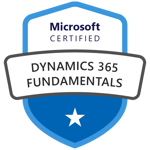 20920
If you have broad exposure to the enterprise resource planning (ERP) capabilities of Dynamics 365 and understand the fundamentals of how finance and operations apps fit in within the overall Microsoft ecosystem—this certification is for you. People who are familiar with business operations, have a fundamental understanding of financial principles, and are information technology savvy—either generally or through work experience—can use this certification to validate those skills and help open career doors.
20900
Candidates for this exam are users who aspire to improve productivity by understanding the capabilities of the Power Platform, automating basic business processes with Power Automate, performing basic data analysis with Power BI to produce business insights, acting more effectively by creating simple Power Apps canvas app experiences, and creating powerful chat-bots without using code.