Get everything you need to run your services business. Empower your teams to win more contracts, optimize resource utilization, accelerate project delivery, and maximize profitability. Dynamics 365 Project Operations will be released soon.
Built on Common Data Service, Microsoft Project for Web was released in the third quarter of 2019. This solution introduced the Project Scheduling Service, a cloud-based version of Microsoft Project's highly performant scheduling engine. We have designed a set of core project entities based on the intersection of key Project Service Automation entities and Microsoft Project capabilities.
The feature represents investments that bring together the core capabilities from Project for Web and Project Service Automation as a new product offering called Dynamics 365 Project Operations. This will represent the comprehensive project management capabilities, such as resource bookings, sales, pricing, costing, approvals, and project actuals. The value of this feature will help project managers plan the projects with visibility and awareness of the financial impact of the changes they make to their project plans.
Our new videos are coming soon. 
In a meantime refer to https://docs.microsoft.com/en-us/dynamics365/project-operations/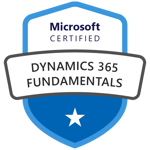 20920
If you have broad exposure to the enterprise resource planning (ERP) capabilities of Dynamics 365 and understand the fundamentals of how finance and operations apps fit in within the overall Microsoft ecosystem—this certification is for you. People who are familiar with business operations, have a fundamental understanding of financial principles, and are information technology savvy—either generally or through work experience—can use this certification to validate those skills and help open career doors.